About Web Helper Browser and V4 Solutions Limited
Web Helper Browser is an innovative new internet browser with integrated saving, retrieval and automation tools.
V4 Solutions are an independent software developer.
Also available from V4 Solutions is Oriador Rota, our staff rota/roster software. Download it from Oriador.com for our free 45 day trial.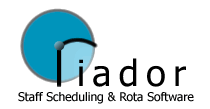 For more information on Web Helper Browser, please email enquiries@webhelperbrowser.com.
V4 Solutions Limited (UK Reg# 4085907)
Registered Office:-
Fairview House, Victoria Place, Carlisle, CA1 1HP